Design, construction, and facilities: the community meets at SAIE, The Construction Fair, in Bari, Italy, Oct. 19-21, 2023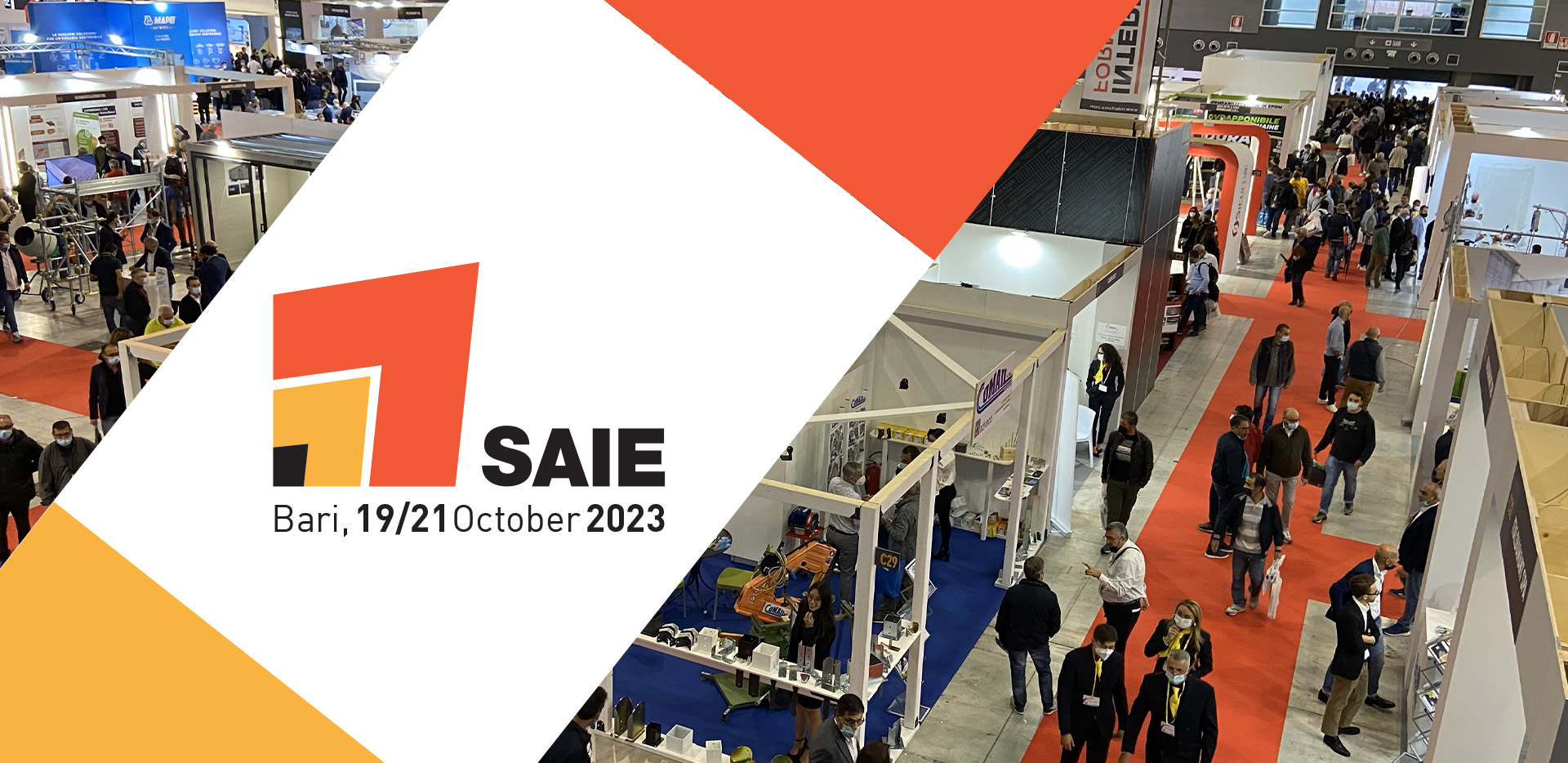 407 companies and 75 partner associations attending, and a program encompassing 25 special initiatives and 123 professional development conferences.
At SAIE Bari 2023, exhibition areas dedicated to the latest product innovations and technical-regulatory training sessions where hot topics for the entire construction system will be explored, including PNRR (National Recovery and Resilience Plan), incentives, and the new European green directives.
---
Milan, 16th Oct. 2023 – Bari is preparing to host the new edition of SAIE, the Construction Fair: design, construction, facilities, , which will take place Oct. 19-21 at the Fiera del Levante. The three-day fair represents a key event for the construction supply chain, which today counts almost 840,000 active companies (source: Movimprese) and determines, according to the latest estimates of Federcostruzioni, about a third of our country's GDP. SAIE 2023 will be the most effective time not only to discuss the key issues in construction and plant engineering but also for a live evaluation of the latest product innovations for the industry.
An ever-growing fair, strengthened by the strategic annual alternation between the Bologna and Bari hubs that has made it the reference point for operators from all over Italy and beyond. This year, SAIE Bari will also have two more exhibition halls than last year, over 400 companies on display, and 75 partner associations. There will also be 25 special initiatives and 123 educational conferences, in an exhibition space featuring four synergistic thematic salons – Design and Digitization; Construction; Plants; Services and Media.
"SAIE Bari is an opportunity not to be missed by construction industry operators because it acts as a tool for updating and an accelerator of business opportunities. It is therefore a crucial event that will allow exhibiting companies and visitors to meet in person to strengthen or create new market and networking opportunities. After the success of the last edition in Bologna, which was attended by more than 37 thousand visitors, we are excited to bring the fair back to Bari and make our contribution to the Italian construction scene, offering, through training and exhibition moments, the best insights on construction technologies and solutions. All this in a hub, that of Bari, capable of attracting excellence not only from Central and Southern Italy but also from other basins, such as the Mediterranean one from which 10 delegations of buyers will arrive" – said Emilio Bianchi, SAIE General Manager.
Theme shows, conferences, special initiatives, and areas of excellence will make for a dynamic trade show experience, allowing visitors to discover key market trends and immerse themselves in the real projects of participating companies. Crucial issues in the supply chain will be touched upon during the event: construction site, energy efficiency, digitization, building-plant integration, ecological transition, new living and building requirements, and PNRR. Per affrontare al meglio questi argomenti, le iniziative speciali saranno distribuite su quattro percorsi specializzati: innovazione, sostenibilità, infrastrutture e persone al centro.To best address these topics, special initiatives will be spread across four specialized tracks: innovation, sustainability, infrastructure, and people at the center.
Given the companies' desire to provide increasingly advanced product responses, SAIE Bari could not miss SAIE Innovation, the thematic path dedicated to exhibition areas concerning digitization, technological innovation, parametric design, and digital transformation, key factors for the future of construction. Numerous demonstration areas will be featured in this focus such as ASSOBIM Digitization Area, and Agenzia del Demanio (State Property Agency) Area, dedicated to the themes of BIM, Digital Heritage, and the enhancement of State properties. The range of initiatives also includes the Integrated Design and Automation Demonstration Area, AIST Technical Software Area, SAIE Machinery and Equipment, and the BIM&DIGITAL Award contest, promoted by Clust-ER Build in collaboration with SAIE and ASSOBIM and with the purpose of rewarding projects that take advantage of digital innovations.
The new European green directives are taking the construction system in the direction of energy transition, and SAIE Sustainability plays a key role in this. An ad hoc course designed to explore both the link between construction and environmental protection and the improvement of indoor and outdoor well-being. A central theme that links many planned special initiatives such as the Building Energy Efficiency Area, an area where companies will present products, services, and case histories. In addition, there will be workshops, specialized seminars, and business presentations. Completing the picture of SAIE Sustainability are other special initiatives such as CasaClima Village Area, SAIE Serramenti (Joinery), Finiture Tecniche e Colori (Technical Finishes and Colors), SAIE Alluminio, Off-site Integration Area, ISI Seismic Area, and Ceramics and Brickwork – Confindustria Ceramica Area.
The fair's thematic focuses include SAIE Infrastructures, a thematic itinerary along which the excellence of Italian projects in the areas of bridges and viaducts, ports, railway stations and lines, roads and highways, and urban redevelopment projects will be showcased. In particular, the first edition of the States General of Concrete will be held within the SAIE InConcrete area, involving all the major players in the industry and taking stock of concrete technology. Another scheduled initiative is SAIE Floors and Coverings, carried out in collaboration with Conpaviper and aimed at enhancing manufacturers and applicators in the flooring world.
Finally, SAIE People at the Center, a space featuring training, demonstration, and awarding events through collaboration with strategic corporate partners, training schools, national bodies, and associations. Awards and contests include the Cassa Edile Awards, which recognizes virtuous companies that have distinguished themselves by respecting the rules in their work, the national final of Ediltrophy, a masonry art tournament in collaboration with FORMEDIL and the excellence of building schools, and finally, the Instagram contest "The Beauty of Infrastructure – Bridges and Viaducts", a photo contest that aims to enhance and celebrate bridges and viaducts as aesthetic elements.
The growth of exports by companies active in the construction sector confirms the interest of Italian operators in foreign markets, as well as the recognized validity of the made-in-Italy product. To create a meeting point between supply and demand, exhibitors at SAIE BARI will once again have the opportunity to meet buyer delegations from European and non-European countries during the days of the event through a program of matching and one-to-one business meetings.
As many as nine delegations will be featured in this new edition of the fair: Albania, Algeria, Greece, Morocco, Poland, Serbia, Somalia, Tunisia, and Turkey. An important opportunity for the entire territory of Central and Southern Italy to establish direct contact with new potential customers and to develop a network of foreign distributors/importers.
---
MY PR – Senaf Press Office
Fabio Micali – fabio.micali@mypr.it
Barbara Gori – barbara.gori@mypr.it